£1390 profit to £10/point stakes
Well, this service has been phenomenal over the past three months. It is run by Betting Gods which is one of the better online tipster agencies. Their services are transparent, the subscription prices are reasonable and, importantly and unlike some other agencies I could mention, they don't try to artificially boost profit claims with silly staking or impossible advised prices. If I did have a criticism, there have been occasions where I have not received the daily emails and there is nowhere to log in to the website to obtain the selections (though I understand this is in the process of being rectified). This I realise is not necessarily a fault at their end but I don't seem to have problems otherwise. There have also been times when advised prices have already gone by the time the emails arrive, especially with one of their other services which I am blogging.
The service is just £29.95 per month, with the first month a mere £4.95. As it uses Clickbank to process payments, there is also a 60 day no quibble money back guarantee. For £199.95 you can purchase the lifetime package which guarantees a minimum of 12 months of tipping. You could pay for that after less than a fortnight of average profits at £10 per point!
So – to the service. Tim concentrates on the 'big' races (ie those where the prize money is) because this attracts runners where form reading can sort out the wheat from the chaff. When I began recording the results three months ago the service dived to a 35 point low at the Aintree Festival. However, when he tipped Wayward Prince at 33-1 to win the Scottish Grand National, it has been all upwards from there.
There are obviously more selections given during the big festivals, but otherwise it's one or two – or none – per day. Tim never gives out selections for the sake of having a bet. The advice is between half a point and six points, and the strength of the bet never feels as though it is any more than confidence in the selection. That's what you're after.
There are no shorties. The lowest price of 2/1 actually was a losing bet, but prices are usually in the each way area (5.0) or above.
Losing runs have been rare in the three months, the longest being that early Aintree Festival at 12 (32 points). The advised odds value is excellent, with advised odds 94% better than SP and the odds I recorded available 66% better than SP.
In the two big festivals during the trial, Aintree and Royal Ascot, the service struggled. A case of you can't see the wood for the trees I reckon. The problem with the big festivals is everyone and his dog wants to prove their worth, and they find them irresistible. I think sometimes you want to RESTRICT your selections around these festivals.
But this service has done well enough to be very profitable at SP, making 84 points. That represents an average 28 points a month, which is a fantastic return. At the odds I found available, a 34% ROI and 139 points profit is phenomenal.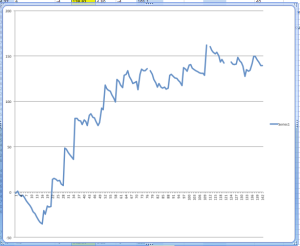 For potential purchasers, I heartily recommend this service. If, like me, you have a swathe of closed down and restricted bookie accounts, this will even work on the exchanges if the past 3 months are anything to go by. Take the early prices though. At the cheap first month price and the money back guarantee, you can paper trade this – but you might just be disappointed you didn't have real money down.
I will now hope to report back on this  service on a monthly basis. If Tim can keep this level of success going for a year, it must be one of the best tipster services of all time.
You can try Big Race Bookie Busters for just £4.95 here:
https://www.cash-master.com/BigRaceBookieBusters.php
Update 5th October 2015
Dear oh dear oh dear. I know what it's like to be on the receiving end of a highly recommended service which bombs as soon as I subscribe. I've done it many times! Now I know what it's like to be on the other side, as the one who made the recommendation. The timing couldn't have been worse. It's like I put the mockers on it. I can tell you, it hurts even more than being the subscriber. You will find similar praise for this service on other well established review sites as well.
This is what I said in my June summary: "If Tim can keep this level of success going for a year, it must be one of the best tipster services of all time."
Well, the.. erm.. good news is, if you had subscribed when the review started back in April, you would still be in profit. We emphasize over and over the importance of taking a long-term view. However, even over the six month period, the six point profit this has made would not make it interesting enough for many of our readers.
Since my recommendation on June 30th, this service has lost the 100 point starting bank. There's no gloss to put on that really. In fact, Darren, who runs the admirable Betting Gods web service (which is the agency for BRBB), sent out an impassioned email to his subscribers over the weekend about cancellations and negative emails concerning their services, reminding them of the winning mentality necessary for successful punting and pointing to the long term success of his services. He omitted to mention Big Race Bookie Busters, which is hardly surprising for a service with a graph that looks like you're at the top of a ski slope looking down!
Of course, Darren does his due diligence before taking on a service, and all he can do is go on past results for future potential. It's quite obvious to anybody who has been with BRBB since last year that Tim knows his horses, and my own hunch is that he will recover and go on to future success.
Would I carry on following his bets? I'm afraid not. There's a point to be made here about what 'long term' really means. When you're investing in the stock market, long term means years. We wouldn't throw in the towel every time they suffer a 3 month drawdown. But we don't view gambling on sports with the same longevity. That's because, unlike stock, we don't have decades to look back and see recovery periods. So then we go on to ask, "is one month enough to assess a service"? Three months? A year? Well, of course the same reply would not apply to all services. I know of a very successful investor in the soccer markets who claims that he will give a system two years. I just think we all have to make our own minds up about this, and stick to it. In truth, if you sign up to a service and you assign a bank to it, then that bank becomes something you're willing to risk with the particular service. Abandoning it when it's 40% down doesn't make any sense at all.
Unfortunately, with BRBB, the recommended 100 point bank has gone for June subscribers. It's unreasonable to judge Betting Gods by this service. The agency is transparent, well run, not overpriced and effectively gives a free trial by offering a money back guarantee for the first month.
For me, it's over and out on Big Race Bookie Busters. I wish it well.
Update November 2016
A year ago we moved BRBB from the Approved services list into the Neutral section after it suffered a horrible losing period over the summer, effectively giving back the profits we had made during our trial.
This really highlighted the importance of having a long term view when it comes to betting and I'm pleased to report that over the last 12 months they have produced another 216 points profit.
If you have a look at the graph below you can see how last summers losses were short term; the service recovered and went on to produce further substantial gains:

I'm happy to move this back into the Approved section now as this is clearly a profitable service. One thing I would recommend though is using a 200 point bank, as anyone using a 100 point bank starting at the beginning of last summers losing run would have come unstuck.
You can try Big Race Bookie Busters for £1 here:
https://www.cash-master.com/BigRaceBookieBusters.php