This Flagship One A Day Service Has ANOTHER Winning Year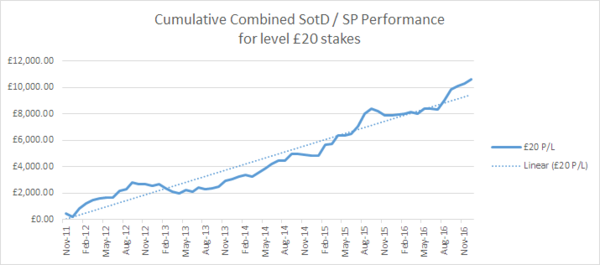 This is GeeGeez flagship Stat of the Day, a 1 bet per day service for Geegeez Gold subscribers six days a week (Sundays off), and free to all on Mondays. If you're already a Gold subscriber, you'll know that in 2016, SotD gave 70 winners from 294 selections at a strike rate of 23.81% producing level stakes profits of 46.24pts at an ROI of 15.73%.
If you're not a Gold subscriber and would like get in on these selections, you can do so for just £30 per month or £249 per year (best value) via this link, and they'll even give you the first month for just £1 if you're a first time subscriber.
SotD's Little Brother Has Been Storming Since Inception, Too
As well as Stat of the Day, they also run a separate independent tipping service called Stat Picks, which unsurprisingly, like SotD, is also stat-driven. That means you get a real grounding in betting sense, as well as profit-making selections.
Again, it's a 6 days per week service and the aim is to average 15 to 20 selections per week so you can manage everything without an enormous bank.
In 2016, they gave out 165 winning bets from 595 selections, a strike rate of 27.7%, yielding 83.77pts at attainable prices for an ROI of 14.1%. That's £1,675.40 to spend however you like, at just £20 stakes.
And the cost of Stat Picks? Also very affordable at either £27 per month or a better value quarterly option of £57 per quarter (£19/month), both options are available here and once again, there's an introductory offer of just £7 for the first month.
What's the Bottom Line?
Taking the best value option in 2016 for both services, would have required a total investment of £477, and in return you'd have had 235 winners from 889 selections (26.43% SR) for level stakes profits of 130.01pts at an ROI of 14.62%.
In plain English, that means any stake above £3.67 per point would have been pure profit.
A £20 per point stake would have covered all your subscription fees and still left you better off to the tune of over £2,123.20, enough for a nice holiday at the very least.
Getting Better Each Year
At start of every New Year, I have a good look at how I'm going to tackle the yearly challenge of beating the bookies, and the two key things I always come back to are:
– a disciplined approach, and
– only using services from trusted sources.
Stat of the Day has five years of solid continuous profits and Stat Picks (launched in December 2014) has been profitable since inception.
The results of both are freely available to see, and the cautionary words about discipline are quite simple:
You WON'T win every day, and you WON'T win every week, and you WON'T win every month.
BUT… both services WILL continue to deliver long-term profits if you're disciplined enough to stick at it during inevitable downturns!
The full results of Stat of the Day and Stat Picks combined are now more than £10,000 (£10,574.60 to be precise), with an unblemished year-on-year record of profits.
If you want somebody to do the hard work for you, and you're serious about making a profit from betting on horses in 2017, take these two services for a spin.
Trial Stat Picks for a month for just £7 here
Take Stat of the Day for a 30 day spin for £1 here (new users only)